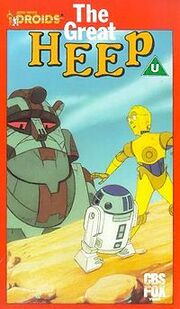 The Great Heep was a 48-minute, animated television special that aired on June 7, 1986. It is part of the Star Wars franchise, and was a follow-up to the Star Wars: Droids series.
PLOT
C-3PO and R2-D2 travel to Biitu and confront an evil Abominor named "The Great Heep" that built onto itself from the remains of other droids.
Ad blocker interference detected!
Wikia is a free-to-use site that makes money from advertising. We have a modified experience for viewers using ad blockers

Wikia is not accessible if you've made further modifications. Remove the custom ad blocker rule(s) and the page will load as expected.