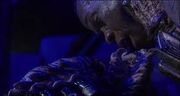 Mike is one of the few humans to have ever defeated a Yautja/Predator in single combat. He displayed his extraordinary durability and stamina while tracking the City Hunter across LA and following it underground. He then fought it and killed it eventually using the predators own weapon.
Notable participants
Edit
Mike Harrigan
---
Predator a.k.a. 'The City Hunter'
Ad blocker interference detected!
Wikia is a free-to-use site that makes money from advertising. We have a modified experience for viewers using ad blockers

Wikia is not accessible if you've made further modifications. Remove the custom ad blocker rule(s) and the page will load as expected.