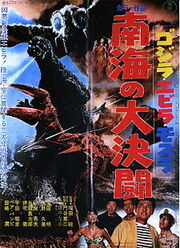 Godzilla vs. the Sea Monster, is a 1966 Kaiju/Tokasutsu film directed by Jun Fukada.thumb|300px|right
PLOT
After Yata is lost at sea, his brother Ryota steals a yacht with his two friends and a bank robber. The crew runs afoul of the giant lobster Ebirah, and washes up on the shore of an island, where a terrorist organization manufactures heavy water for their purposes, as well as a chemical that keeps Ebirah at bay. The organization, known as the Red Bamboo, has enslaved natives from Infant Island to help them, but the natives hope to awaken Mothra to rescue them.
In their efforts to avoid capture, Ryota and his friends, aided by a beautiful native girl, stumble across Godzilla sleeping within a cliffside cavern. The group devises a plan to defeat the Red Bamboo and escape from the island. In the process, they wake Godzilla using a lightning rod. Godzilla fights Ebirah, but the giant lobster escapes. Godzilla is then attacked by a giant condor and a squadron of Red Bamboo fighter jets, but destroys them.
The humans retrieve the missing Yata, free the enslaved natives and Godzilla begins to destroy the base. Godzilla smashes a tower that has a self destruct button that makes the island unstable. Godzilla fights Ebirah and defeats it, ripping off both Ebirah's claws and causing it to retreat into the sea. The natives summon Mothra to save everyone, however, Godzilla challenges Mothra when she gets to the island. Mothra manages to push Godzilla away and carry the people off. Godzilla escapes the island just before it explodes.
Ad blocker interference detected!
Wikia is a free-to-use site that makes money from advertising. We have a modified experience for viewers using ad blockers

Wikia is not accessible if you've made further modifications. Remove the custom ad blocker rule(s) and the page will load as expected.