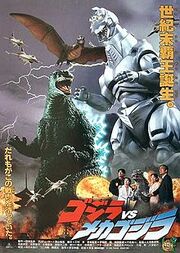 Godzilla vs. Mechagodzilla II, is a 1993 film.thumb|300px|right
PLOT
The Japaniese Self Defense Forces lift the remains of Mecha King Ghidorah from the ocean. Using the armor and robotic technology that the Futurians gave them, they create Mechagodzilla, a super weapon that they hope will finally kill Godzilla.
On a mission to an island in the Pacific, a Japanese team comes across a dinosaur egg. They take the egg and attract Godzilla and Rodan after stopping the fight that they are engaged in. The egg is taken back to Japan where it hatches into Baby Godzilla. Godzilla appears in Kyoto to rescue the infant Godzillasaur, but Mechagodzilla battles Godzilla, defeating him. However, Godzilla uses his nuclear pulse, shutting down Mechagodzilla. Godzilla shoves Mechagodzilla and continues searching for BabyGodzilla, though he is hidden by G-Force scientists in a room that blocks off his psychic mind waves. Godzilla gives up and returns to his ocean home, but not before destroying the island.
Tests on BabyGodzilla reveal that he has a second brain in his hips that control his legs and tail. The JSDF assume that the same goes for Godzilla, since Godzilla and BabyGodzilla are both Godzillasaurs. They decide to use BabyGodzilla to bait Godzilla to them and use the G-Crusher, a system designed to destroy Godzilla's second brain, on the mutant dinosaur. Instead Rodan, now transformed into Fire Rodan, is attracted to the bait as well and fights the JSDF attack aircraft Garuda and defeats it. He turns his attention to Mechagodzilla and attacks, losing horribly, being no match to the super weapon though he does disable Mechagodzilla's right eye laser cannon. Godzilla then shows up and starts to battle Mechagodzilla. Mechagodzilla combines with Garuda and turns into Super Mechagodzilla and uses the G-Crusher on Godzilla. Godzilla's secondary brain is ruptured, completely paralyzing him, but is revived when Fire Rodan sacrifices himself and transfers his remaining life energy to Godzilla. Godzilla is enraged by Rodan's death and uses his newly acquired spiral atomic ray to destroy Super Mechagodzilla as revenge.
Godzilla then adopts BabyGodzilla as his son and they both swim off into the ocean to find a new home.
Ad blocker interference detected!
Wikia is a free-to-use site that makes money from advertising. We have a modified experience for viewers using ad blockers

Wikia is not accessible if you've made further modifications. Remove the custom ad blocker rule(s) and the page will load as expected.