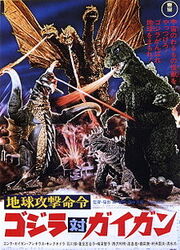 Godzilla vs. Gigan, is a 1972 tokusatsu Kaiju film.thumb|300px|right
PLOT
A species of giant insectoid aliens from a dying Earth-like planet in "Space Hunter Nebula-M" plot to colonize the Earth. The aliens assume the forms of recently deceased humans and work as the development staff of the peace-themed theme park, World Children's Land, the centerpiece of which is "Godzilla Tower". The Nebula-M aliens plan to use the space monsters Gigan and King Ghidorah, guided by two "Action Signal Tapes," to wipe out human civilization.
Manga artist Gengo Kotaka stumbles onto their plan after being hired as a concept artist for the park. When Gengo and his friends accidentally obtain one of the Action Signal Tapes and play it, Godzilla and Anguirus hear the signal and realize something is amiss. Godzilla sends Anguirus to investigate. When Anguirus approaches Tokyo, the Japan Self Defense Forces, misunderstanding the monster's intentions, drives him away.
Anguirus reports back to Monster Island, and Godzilla follows him back to Japan to save the Earth from Gigan and King Ghidorah. The aliens attempt to kill Godzilla with a lethal laser cannon hidden inside Godzilla Tower, but Gengo and his companions destroy the tower along with the aliens. After a lengthy fight, Godzilla and Anguirus force Gigan and King Ghidorah back into space and then Godzilla and Anguirus swim back to Monster Island, but not before Godzilla turns around and gives a roar of triumph.
Ad blocker interference detected!
Wikia is a free-to-use site that makes money from advertising. We have a modified experience for viewers using ad blockers

Wikia is not accessible if you've made further modifications. Remove the custom ad blocker rule(s) and the page will load as expected.