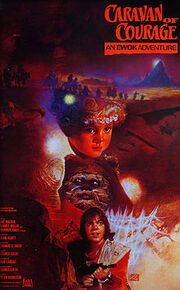 The Ewok Adventure is a 1984 American Made-For-TV based in the Star Wars setting. It was released theatrically in Europe as Caravan of Courage: An Ewok Adventure.thumb|300px|right
PLOT
On the forest moon of Endor, the starcruiser of the Towani family lies wrecked. The Towani family (Catarine, Jeremitt, Mace, and Cindel) are stranded. When Catarine and Jeremitt vanish, the children are found by the Ewok Deej. After Mace tries to kill them, the Ewoks subdue him and take both children to the Ewoks' home. There, Cindel and Wicket become friends. Shortly thereafter, the Ewoks kill a beast only to find a life-monitor from one of the Towani parents with the creature.
They seek out the Ewok Logray who informs them that the parents have been taken by the monstrous Gorax, who resides in a deserted, dangerous area. A caravan of Ewoks is formed to help the children find their parents. They meet up with a wistie named Izrina and a boisterous Ewok named Chukha-Trok before finally reaching the lair of the Gorax. They engage the Gorax in battle, freeing Jeremitt and Catarine, but Chukha-Trok is killed. The Gorax is thought destroyed when he is knocked into a chasm, but it takes a final blow from Mace (using Chukha-Trok's axe) to kill the creature, who tries to climb back up after them. Thus reunited, the Towanis decide to stay with the Ewoks until they can repair the starcruiser, and Izrina leaves to go back to her family.
Ad blocker interference detected!
Wikia is a free-to-use site that makes money from advertising. We have a modified experience for viewers using ad blockers

Wikia is not accessible if you've made further modifications. Remove the custom ad blocker rule(s) and the page will load as expected.